iMarketings.eu receives exclusive invitation from Google to participate in International Growth Program
We are excited to announce that, for the 3rd consecutive year, Google have included us in their exclusive International Growth Program and this year, we were the only digital marketing agency from Latvia who were invited to partake in this exceptional opportunity.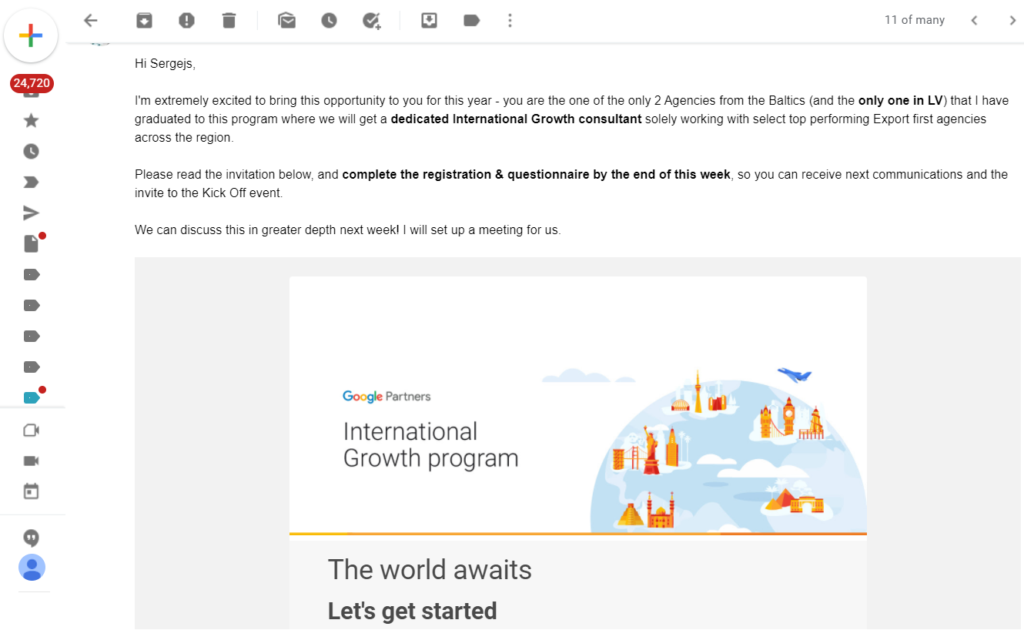 The biggest benefit of this program, which runs from April-December 2021, is that our strategic export clients receive fantastic additional opportunities to continue their growth in Europe and Scandinavia. Throughout the program, we're able to tap into Google's expert knowledge, resources, and tools to help our clients either expand into new markets or grow in existing ones.
The Google International Growth Program is a unique opportunity for exporting eCommerce companies in the U.S to expand into Europe and increase their growth. Taking into account that export activities come with many risks, this program allows us to minimize some of these risks and therefore increase your success rate.
Many of our international clients already know how this program works and how it benefits them. Last year we helped our clients to grow in more than 20 European and Scandinavian countries. The average revenue growth was 83% (YoY).
Here is just one example of an exporting client success story from France. We gained YoY +93% Revenue increase in Facebook, while the Cost increased by only 42%.

Another success story comes from one of our client's who decided to expand into Sweden. Revenue generated from Google Ads increased 82% (YoY). ROAS positive.

If you wish to expand your eCommerce business into Europe or are looking for a partner who is ready to beat your existing performance, we're ready to help. Schedule a consultation with a senior expert via welcome@imarketings.eu
The best ways that we can help you to grow are through:
Analysis of European markets (competition, target audience, etc.)
Strategic planning (budget, message, channels etc.)
Google Ads
Website SEO
Display Ads, programmatic (banners)
Social Ads (Facebook etc.)
Content (social, blogs, influencers)
Mail marketing
YouTube video Ads
Google Analytics
Site content localization
Support in export markets for delivery, customer support etc.