If:
You conduct advertising campaigns by your own or an advertising/media agency is responsible for them
You have more than 2 communication channels and your advertising budget is more than 2,000 euro/mo
We will conduct in-depth analysis of your advertising campaign:
We professionally manage more than 200 Google Analytics accounts
We analyze advertising campaigns for the leading companies on the market
We are a professional team that analyzes data every day. Our Analytics team's total experience is more than 36,000 hours
Our team consists of both technical experts who skillfully cope with tasks of any complexity, as well as marketers who professionally utilize analytical data to improve results
Have you ever asked or wondered about the following?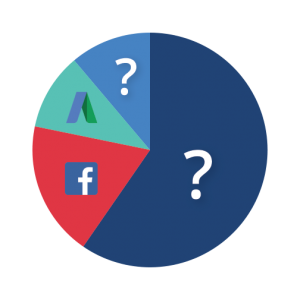 Next year we want to achieve better results (KPIs). What do we need to add to our channels or the budget to achieve these goals?
We want to more effectively split up the advertising budget between different channels. How can we understand the true value and role of each channel?
I would like to see the results for payback, costs, and conversion, as well as other important indicators of campaign performance, in real time, not just once a month.
In Analytics, I see only the costs of Google ads but I would also like to see and analyze the costs and revenues of other online channels (to calculate that channel's ROI)
What is Customer Lifetime Value and how does it affect the price we are willing to pay to attract a customer?
I want to identify the ideal client (a superuser) and direct all my efforts at attracting those clients to my site.
How important are filters/calculators and other functionality on the site?
Finding the answers to these and other analytical questions is what we do every day. And we really like doing it. We turn boring numbers into fascinating stories that enable you to make more accurate and thoughtful marketing decisions.
Our analytical team is ready to work on tasks of any complexity. We are happy to undertake both short-term projects (determining ad campaign effectiveness, channel productivity, etc.) and long-term projects (developing an analysis system with continuous data analysis).
Request a consultation with a Google Analytics expert right now!
We will audit your account in Google Analytics for free
We'll give you the 3 best tips on how to analyze your advertising campaign
We'll determine 3 missed opportunities to help you improve the ad campaign's performance