Case study: How to increase revenue from Facebook ads by 2725% with a budget increase of 377%
At iMarketings.eu we often share clients' achievements in seminars and conferences but we also share interesting case studies from our clients here, on our blog. This particular case study is relevant for both Facebook experts and marketers looking for ways to improve their Facebook campaigns.
Situation
Product: Online store dealing with retail and wholesale electrical goods.
Analysis period: September 1st 2018 – April 30th 2019 vs September 1st 2017 – April 30th 2018
Before iMarketings.eu took over this customer's Facebook Ads campaigns, they were already actively using Facebook ads to promote their brand and its products. This boosted traffic, but the number of purchases was unsatisfactory and the ROAS (Return On Advertising Spend) was below the required level. The customer wanted to increase the revenue of their online store, keeping the total ROAS level above 600%.
Solution
In order to achieve the set goals, iMarketings.eu experts used an advanced strategy – dynamic product advertising (Catalog sales) with three different optimizations. This solution allowed us to create automatic advertisements for the entire range of e-store products using the customer's Product Feed with the ad looking just like other image or carousel ads on Facebook and its partner platforms.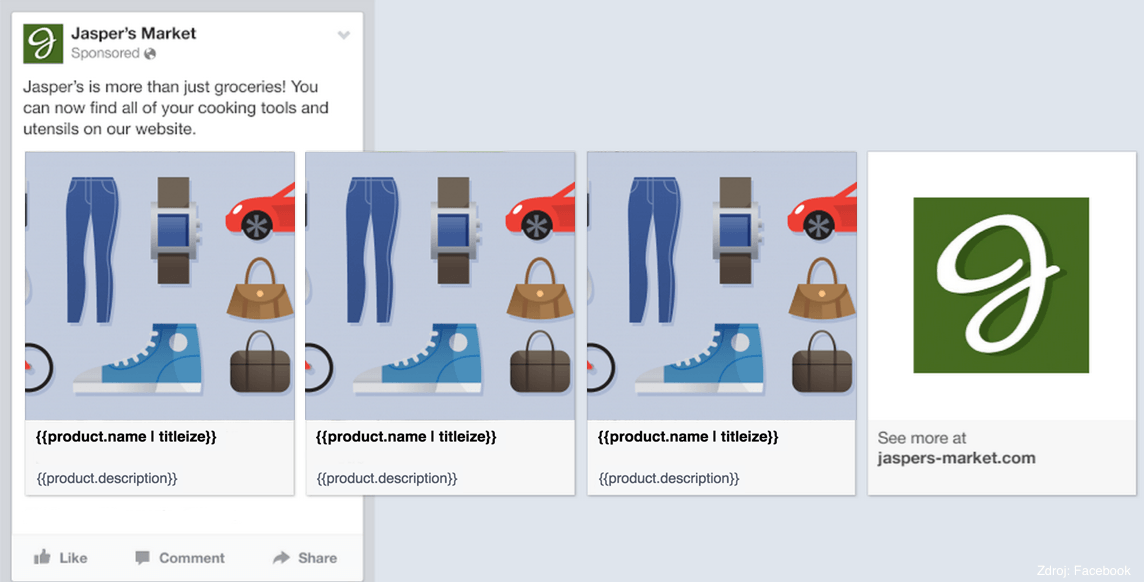 The principle of operation of Facebook catalog advertising. Source: newsfeed.org
Unlike regular ads, dynamic ads are created from the online store's product catalog, automatically reading and adding the set parameters: product image, name, price, etc. Typically, ads based on a customer's product catalog are used for dynamic remarketing but in this case, the product catalog was also used to address a "cooler" audience aka users who had not yet visited the customer's website.
Depending on the audience we were targeting, different Facebook optimization strategies were selected. The three primary campaigns and the types of marketing we used are as follows:
1. In Campaign 1, we targeted broader audiences from whom we wanted the cheapest possible traffic and microconversions (View Content and Add to Cart), so View Content optimization was chosen. Audiences:
Cold audiences:

By interests and specified professions (industry professionals),
Wide Lookalike audience – 10%

Wide remarketing audience (website visitors) – 180 days.
Choosing View Content optimization means that Facebook will target people who are more likely to go to your website and view more products. In this way, not only is cheaper traffic generated, but also higher quality traffic so that as many products as possible can be viewed from one click. The viewed products are listed as microconversions, which are then retargeted through dynamic remarketing.
2. In Campaign 2, we targeted Lookalike audiences (3-5%), which we generated from users who purchased items on the website. This campaign used purchase optimization, which means that Facebook will target those who are most likely to buy a customer's product when selecting users to show its ad to.
3. In Campaign 3, we addressed users who visited the website and viewed the products and/or added them to the cart but did not purchase them. We "caught" these users with dynamic remarketing (a reminder ad showing exactly the products that were viewed or added to the cart) that was optimized for purchases.
In addition, we included in this campaign an audience of users who had previously purchased products on the website and showed them products in random order with Cross-sell optimization.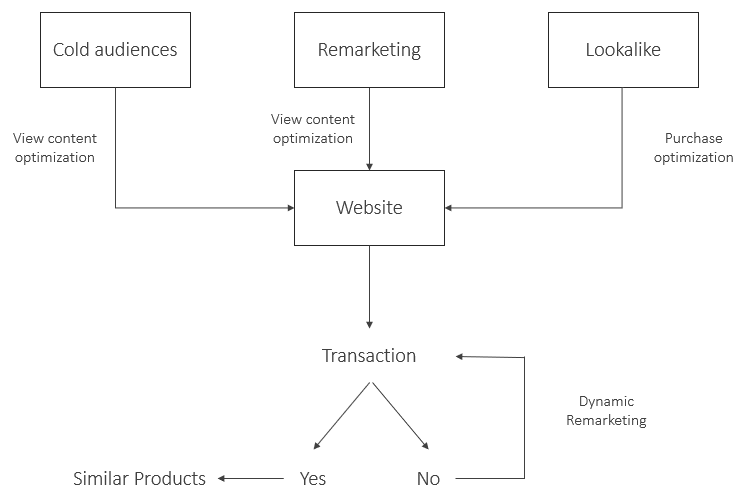 Schematic representation of the advertising strategy used
It is important to mention that we paid full attention to the product catalog – In a file that is submitted to Facebook, it is important to fill in as many variables about the product as possible. This allows you to segment your audience more deeply later on and achieve better results.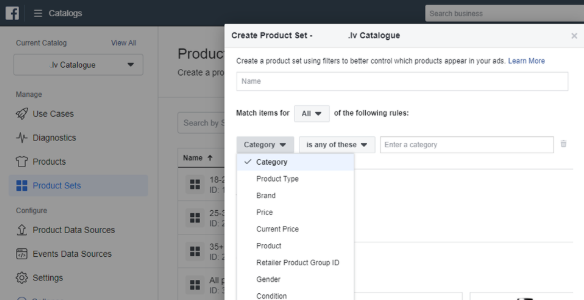 Product Set options in the Facebook Ads Manager Catalogs section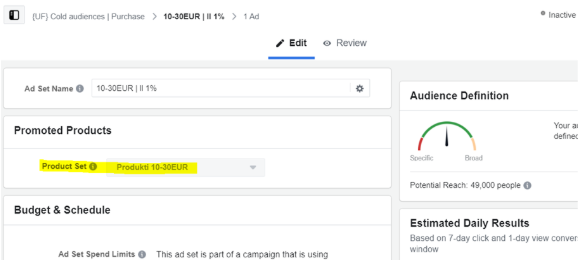 Use of the Product Set segment in catalog ads
Results
After 8 months of communication, the results compared to the same period the year before changed as follows:
Budget increase + 377% (from EUR 3,968 to EUR 18,916)
Conversion Rate improved by 600% (from 0.24% to 1.69%)
The number of direct purchases increased by 2,806% (from 64 to 1860)
Income increased by 2,725% (from EUR 3,241 to EUR 91,579)
ROAS from the Facebook channel went from 82% to 484%


iMarketings.eu client's Google Analytics data

iMarketings.eu client's Facebook Ads data
If you have any questions about the implementation of this campaign, feel free to contact us. We will be happy to help you and your company grow!